50% OFF

Father's Day Sale is now LIVE!
Your New Favourite Kitchen Tool!
No matter the peeling, grating, or shredding task you have in the kitchen, the Magic Trio Peeler is the best kitchen tool for the job.
Peel quicker and safer than ever. These Magic Peelers will eliminate the need for knives and traditional peelers. The stainless steel blades slice through anything, even foods as tough as pineapple. Using the 'trio' design, the blades don't take as much stress as traditional peelers,
preventing the blade from clogging or losing its edge over time.
You will receive three Trio Peelers, each with a different function.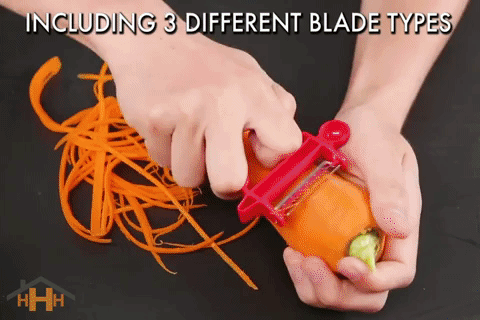 Blue 68mm Peeler:
Used for shredding, it can slide back and forth. Unlike other shredders and graters where you need to lift and pull back, this shreds and grates twice as fast. Perfect for cabbage, lettuce, cheese, ribbons or thin slicing.


Black 50mm Peeler:
Used for general skin peeling. Perfect for apples, potatoes, pineapple, pumpkin, and carrots.
Red 50mm Julienne Peeler:
Peel long strands of food, perfect for Julienne, pasta, zucchini noodles, and much more!
Main Features

Peel, Grate, or Shred any food in seconds!
Smooth and Effortless
Comfortable, even during repetitive motion
Built-In Seed and Potato Eye Remover
Dishwasher Safe
Stainless Steel Blades, No Sharpening Required!
Package Contents

1 x 68mm Blue Peeler
1 x 50mm Black Peeler
1 x 50mm Red Peeler